Ten tops tips for a greener Christmas
Posted on 24 December 2018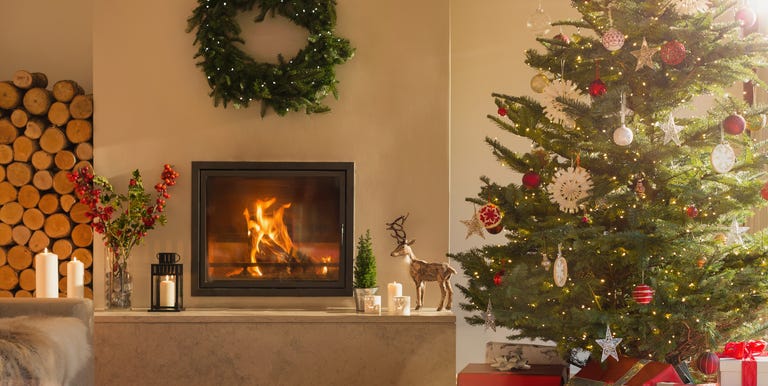 With Christmas just around the corner, it has to be one of our favourite times of the year. We work round the clock to make our jewellery and bespoke pieces in time for the big day and its a magical feeling knowing each piece will be received and opened that day. With the increased volume in shopping at this time, shipping/packaging, decorations, finding your perfect tree, its important that we also think about our environmental cost of all the festivities and how we can all help. So here is our list of top ten tips to have a super green Christmas!
...RENT A TREE
Did you know you can rent trees now? Real trees are less harmful to the environment than plastic varieties, but it's still not a sustainable model to buy them outright. Millions of trees are thrown away and put into landfill rather than being recycled into wood chippings every year, after being used for only a few weeks.
The answer? Companies like
primrosevale.com
and
loveachristmastree.co.uk
will rent you one. You can have it for as long as you need before they take it back to their farm where your tree will be taken care of until next Christmas. You can even have the same one year after year or chop and change as you see fit. The 2nd best option is if you do buy a cut tree is to not send it to landfill, If you chop it up into smaller pieces most councils will collect it or ask your tree supplier if they can collect it at the end as often this can be arranged and they can re-use the wood.
EAT WELL...
Of course, we should aim to eat well all year round, but since feasting is one of the central aspects of Christmas these days, it seems even more important to make sure our food at this time of the year is as healthy as possible. For ourselves and the environment.
Put simply, if we can make sure our meat is organic, free range and locally sourced if possible, our vegetables seasonal and our plastic packaging minimal, our impact on the environment will be significantly reduced. We are big fans of Riverford Organics though Able and Cole offer very similar service also. The Riverford recipe boxes are inspiring and absolutely delish, as well as having veg and meat boxes and anything else you might need for your Christmas feast so it couldn't be easier! We are hooked!
here
.
...AND REDUCE YOUR FOOD WASTE
There are only so many turkey sandwiches you can eat out before you start thinking about binning it. Don't do it! In 2014 we collectively threw away £64 million-worth of food!
Get creative in the kitchen...turn your leftovers into stock and make a delicious risotto for Boxing Day. Make space in the freezer for all those extra roast potatoes. Even the wine you didn't finish can be frozen so you can use it for making stock later.
Think about portion sizes so you and your guests get exactly what you need and no more, try this handy
portion planner.
USE LED CHRISTMAS LIGHTS...
LED lights are much more energy efficient than the more traditional lights that we might have grown up with. And they look just as pretty, especially as they don't have to be bright white anymore, you can find ones that have that lovely warm yellow light that feels more traditional and homely.
By using them - as well as solar-powered lights outdoors - you'll not only be helping the environment but your wallet, as well as your electricity bills, will be so much smaller.
...AND GOOD CANDLES
Candles add a magical atmosphere to any occasion, but did you know that they can also emit greenhouse gases into the atmosphere if they are made of paraffin wax
? Unfortunately, these are the most common form of candles these days. See if you can find candles made from beeswax and vegetable wax.
Whether you think the best part of Christmas is giving or receiving presents, there's a lot of wrapping paper involved in any case. Lots and lots of wrapping paper. Some estimates have it that around 300,000 miles of the stuff will be used over the festive period!
Obviously, the best thing to do would be to reuse your paper year after year, but if you want to buy new, we love london based re-wrapped
 or embrassig the classic brown paper which you can add your own natural decorations to
. 
Remember to use the scrunch test when recycling this years wrapping paper. If it doesn't scrunch up it cant be recycled. And before recycling remove any sticky tape and decorations like bows as these cannot be recycled. Any foil or glitter decorated paper needs to go in the general waste.

Or you could think outside the box and…
...USE FABRIC INSTEAD OF PAPER
Fabrics like scarves and shawls look fantastic used instead of paper, and they can be reused and repurposed many times over. Either use your own pieces of fabric or check out companies like
Happy Wrap
who have a range of beautiful fabric and recycled paper options. Have a look
here
for some inspiring fabric wrapping ideas on pinterest.
On the subject of reusing and recycling: did you know that all of our gold and silver is recycled? We decided that had to be the way forward for us here at Catherine Zoraida and we're so happy we followed that path...
SEND FOREST FRIENDLY CARDS
Receiving cards from your nearest and dearest is always a treat and makes the house look great but, of course, that paper has to come from somewhere. According to research around 1.5 billion cards are thrown away every year...and that's just in the UK! Luckily a lot of folk are selling cards that are either made from recycled paper or produced sustainably.
When looking for cards look out for the FSC logo. This means the paper used is from sustainable woodland. Plenty of charities - like
Friends of the Earth
- sell cards that are not only printed on ethically sourced paper but that are also raising funds for their causes.
If you visit
plantableseedpaper.co.uk
, you can find all sorts of cards that contain seed sachets for you to sow in the Spring so you can also do your bit for our bee population.
And finally, chances are if you're reading this you know your way around the internet so why not consider sending an e-card? Again, Friends of the Earth have loads of good - and free - e-cards that you can check out
here
.
MAKE YOUR OWN DECORATIONS
A really satisfying way to personalise your Christmas experience is to make your own decorations. This, of course, cuts down on all sorts of waste, particularly plastics. You could use carefully foraged materials from the natural world or make edible delights that look great hanging off the tree and taste delicious too.
This is something that is really fun to do if there are any little people around the house. If you need some inspiration have a look
here
and
here
.
BUY ETHICAL PRESENTS
Last but not least, try and make your presents ethically sourced. In the same way that you can make sure your food has been produced sustainably you can also do the same with your gifts. Anything with GOTS, FSC, Rainforest Alliance or Fairtrade logos is good in our books.
In fact…
...we have a
Fairtrade Collection
 at Catherine Zoraida. When you buy Fairtrade, you know that what you're buying will have been produced ethically and sustainably. What's more, a portion of the profits will go back to the communities that have helped create it. These communities really benefit from this programme, and we're so proud to be involved.
You may have also noticed our new leafy cardboard shipping boxes! Being able to ditch the traditional plastic mailer bag or bubble envelope has been an extremely exciting moment for us as we strive to find the best ways to send our gifts safely to you but also with the least environmental damage possible.

If you have any other top tips too do share them with us!
Have a very Merry Christmas 🎄💫